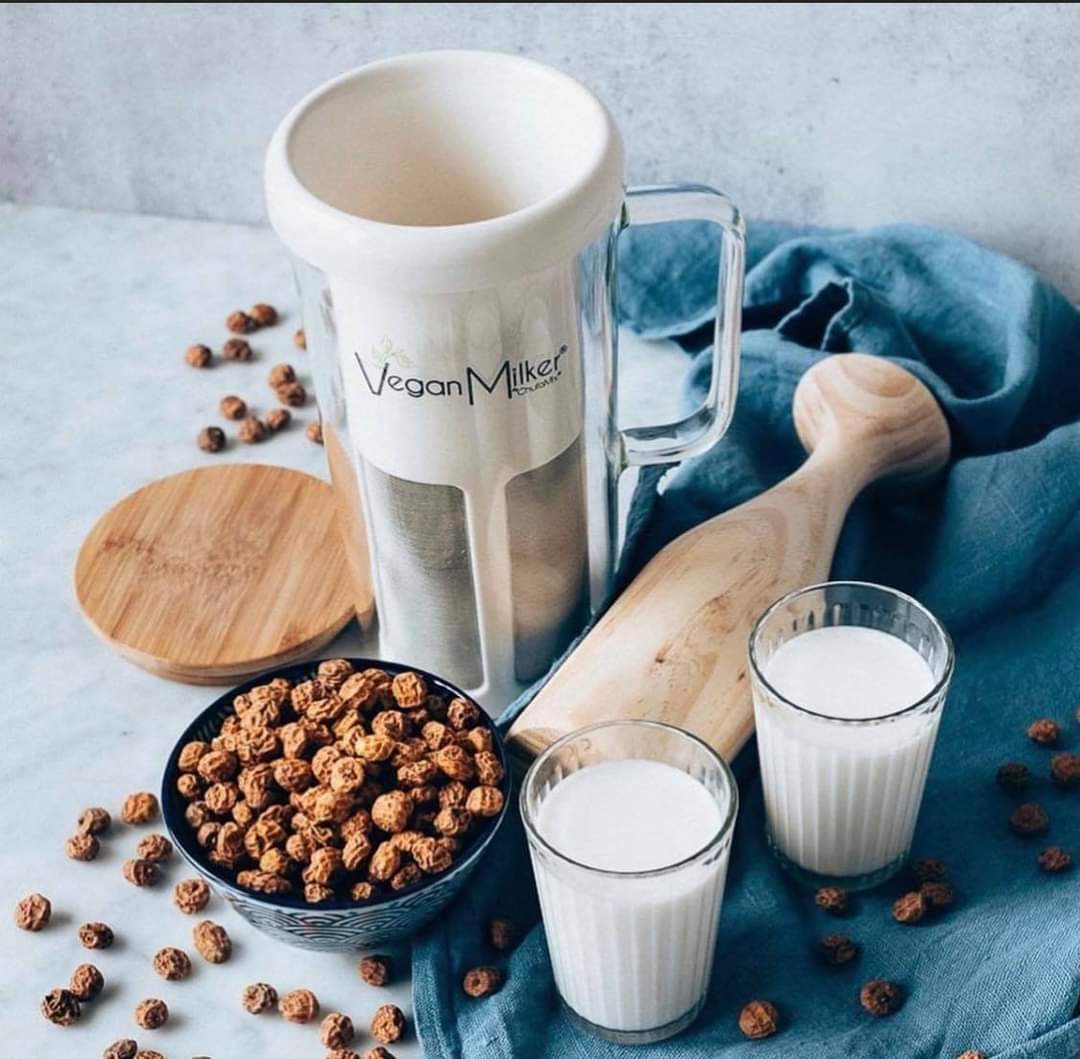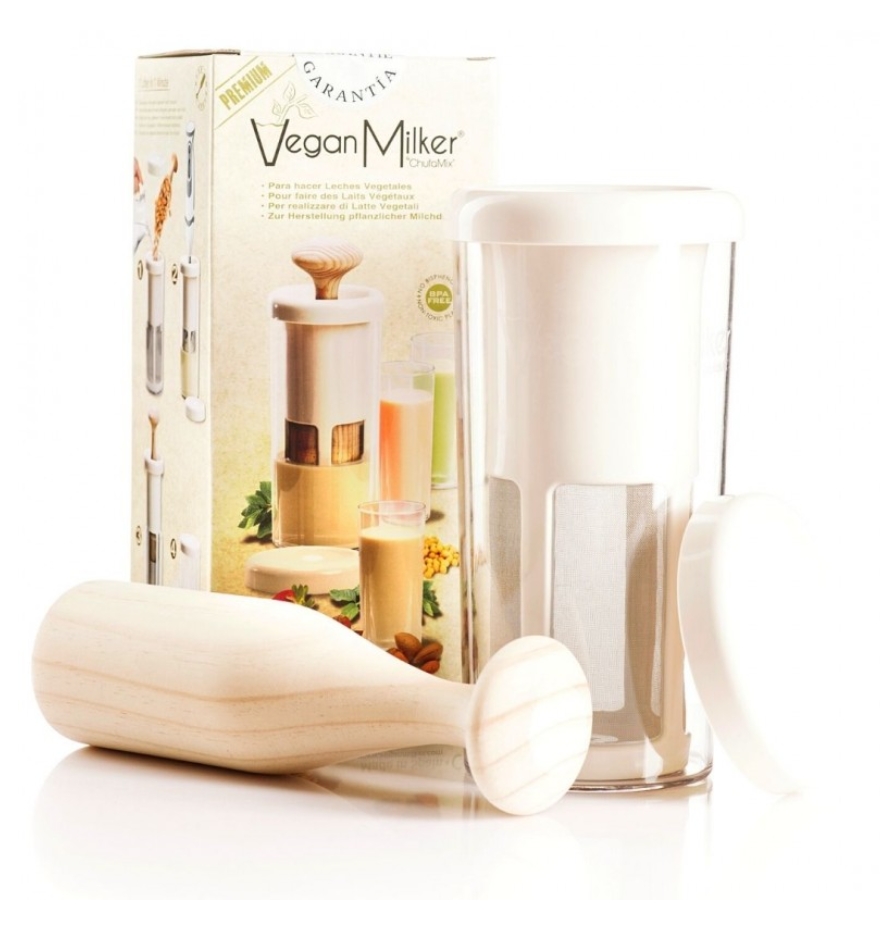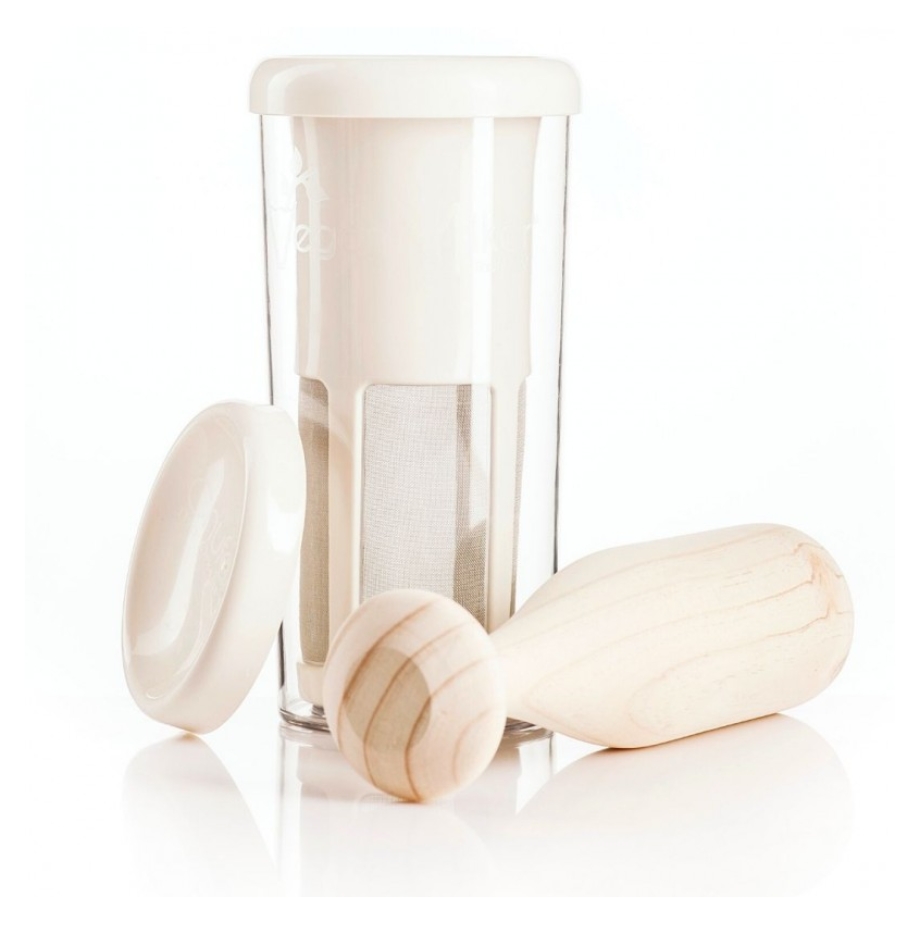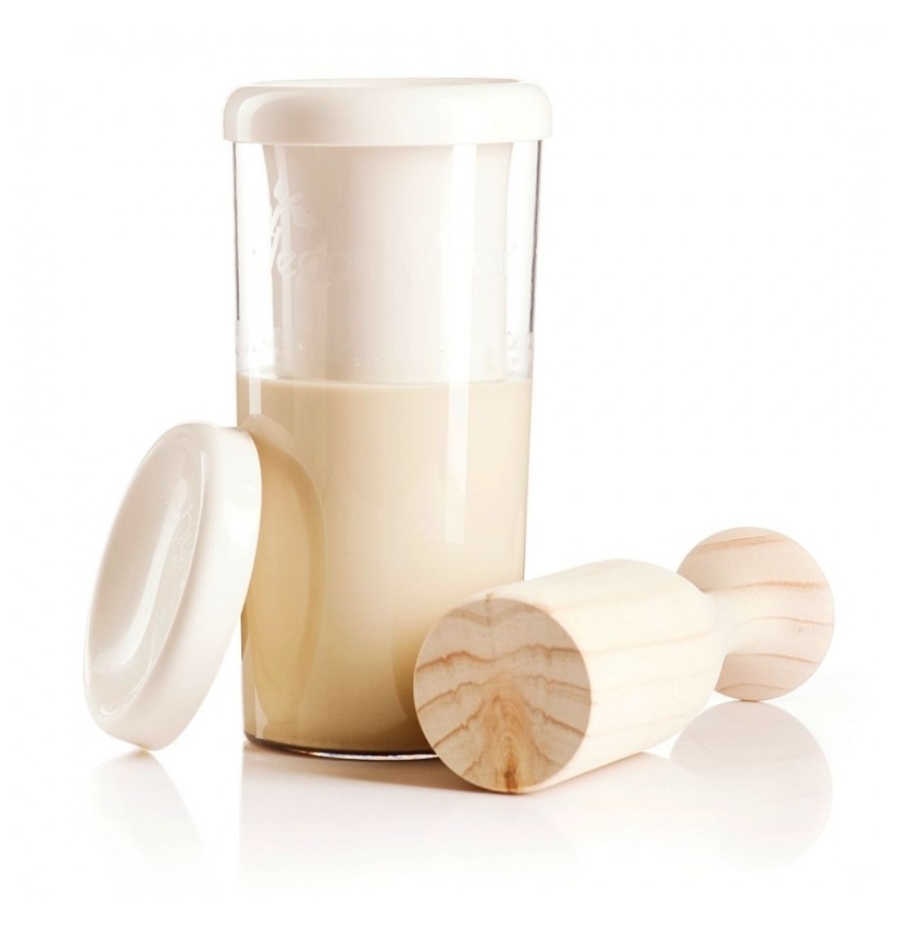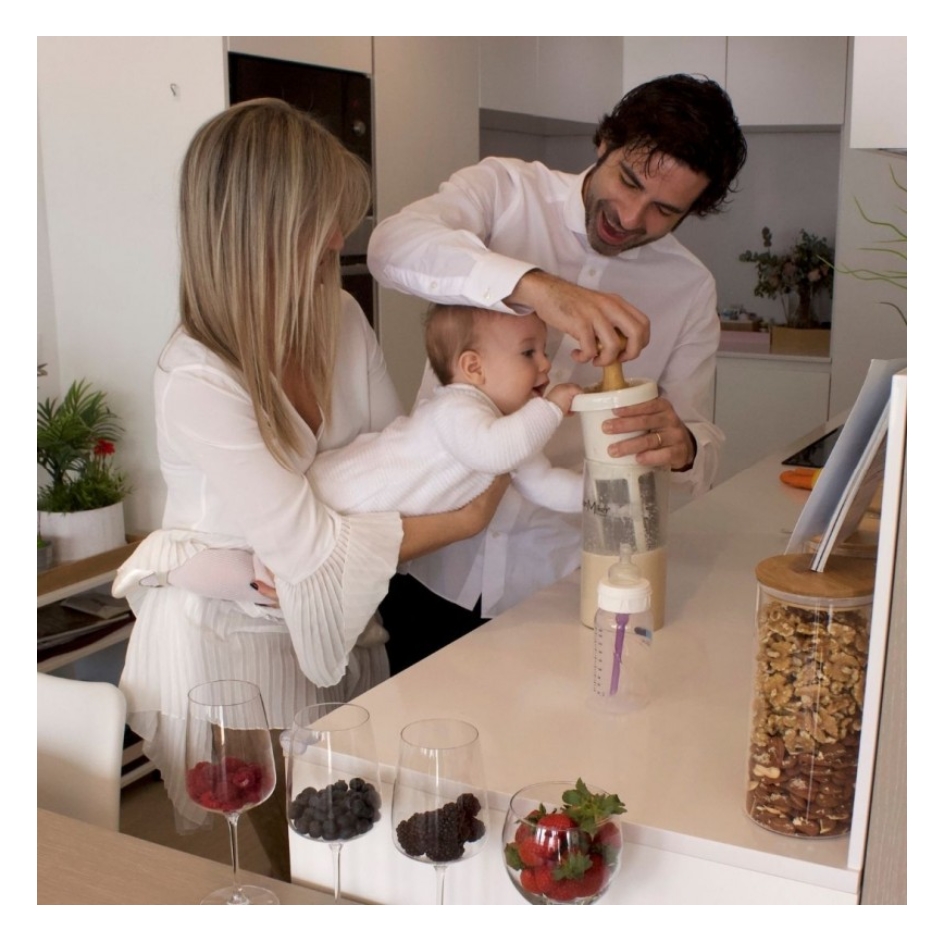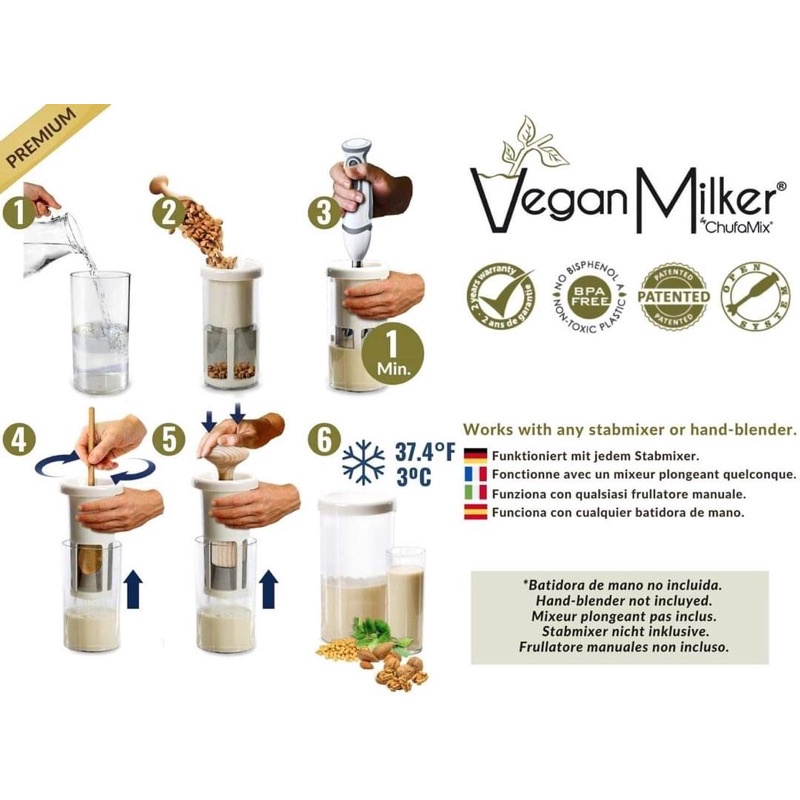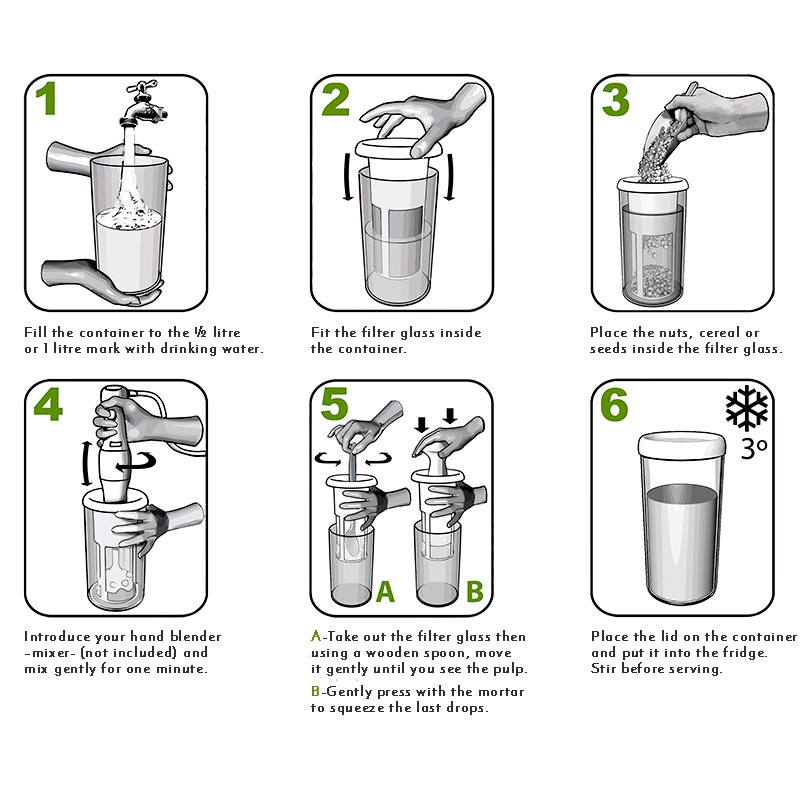 VEGAN MILKER PREMIUM BY CHUFAMIX
DESCRIPTION
Weight: 670 g
Dimensions: cm l.12xw.12xh.27
Suitable for: dishwasher -70ºC and refrigerator
Material: Pine Wood, PP, NAS and stainless steel (BPA free)
Vegan Milker By Chufamix is the leading gadget on the market for preparing homemade plant milk in a simple, quick and economical way.
It works with any hand blender and allows you, in 5 minutes, to enjoy the best homemade natural plant-based milk: almond milk, rice milk, coconut milk, soya milk or any other vegan milk.
It's a non-electric milk maker for seeds, nuts, cereals and herbs that grinds, filters and emulsifies the ingredients in a single step, making a creamier and smoother plant milk, thus maintaining all the nutritional properties of the seeds. Made with high quality and durable toxic-free materials.
This new model incorporates as a novelty the 100% natural pine wood mortar from sustainable forests in northern Spain. The wood has not received any chemical treatment. You can see the whole manufacturing process here. The latest model is Vegan Milker SOUL, the most ECO-FRIENDLY version of the Chufamix family, which incorporates not only the wooden mortar, but also the glass jar and bamboo lid.
VEGAN MILKER PREMIUM - FEATURES
Vegan Milker by Chufamix is a simple veggie milk maker that consists of 4 pieces that can be stacked together for better storage.
Container: with marked measurements (0.8 and 0.5 L).
Filter: stainless steel.
Mortar: Pine wood
Lid: BPA Free plastic.
The hand blender is not included (usable with any hand blender, food processor or stand mixer)
GUARANTEED QUALITY
2-year guarantee. 100% Made in Spain (Europe) with the highest quality materials.
At Vegan Milker we use the highest quality materials to comply with the strictest food contact regulations in countries such as Japan, Germany and Switzerland, always committed to healthy and sustainable food. Plastic-free of toxic components such as BPA, BPS, PVC, Bakelite, Formaldehyde and Phthalates.
REASONS TO BUY VEGAN MILKER PREMIUM:
QUICK, EASY AND CLEAN:
All you need is a blender and your Vegan Milker by Chufamix to make your own plant milk! It is also quicker and cleaner than the traditional process with a nut bag.
SUITABLE FOR ALL TYPES OF DIETS AND INTOLERANCES
The alternative for all types of vegan, vegetarian and intolerant diets (lactose, gluten, soya). You can create a wide variety of recipes; make plant milk with nuts, seeds or cereals, nutritious vegan yoghurts and cheeses, delicious natural seasonal juices...
HIGH NUTRITIONAL VALUE
Homemade plant-based milk is 5 times more nutritious than industrial milk or packaged ones. They maintain all the nutritional properties of the original seed, increasing the benefits. In addition, by choosing the ingredients we use, we could consume really natural and healthy plant milk.
SAVE MONEY MAKING YOUR OWN PLANT MILK
By making our own vegetable milk we save money and gain in health. The price of vegetable drinks on the market is high, so you save by buying nuts, cereals or other seeds in bulk. In addition, you can use the leftover pulp to make delicious recipes that you can find on our blog.
GO GREEN WITH CHUFAMIX!
Getting Vegan Milker at home, you'll avoid unnecessary packaging waste. One Vegan Milker is equivalent to reducing 150 bricks per year. Since Vegan Milker by Chufamix took off we have reduced the consumption of +- 15,000,000 bricks.
VEGAN MILKER RECIPES
HOW TO MAKE HOMEMADE ALMOND MILK IN 5 MINUTES
All you need is a standard household hand blender (or food processor), your Vegan Milker and follow the steps:
Add water to the container following the marked measurements.
Place 100 g of almonds in the stainless steel filter with your favourite natural flavourings (cinnamon, vanilla, etc.).
Grind with your hand blender for 1 minute.
Press with mortar to strain the almond milk.
Enjoy your homemade almond milk with all its flavour and nutrients!
In the following video, you will see in detail how easy it is to make vegan milk with our nut milk maker.
Get to know Vegan Milker By Chufamix
Customer comments
| Author/Date | Rating | Comment |
| --- | --- | --- |