Récolte Home BBQ Set FREE Récolte Tong料理夾子
主機已包括的烤盤:
Basic Plate (平煎盤)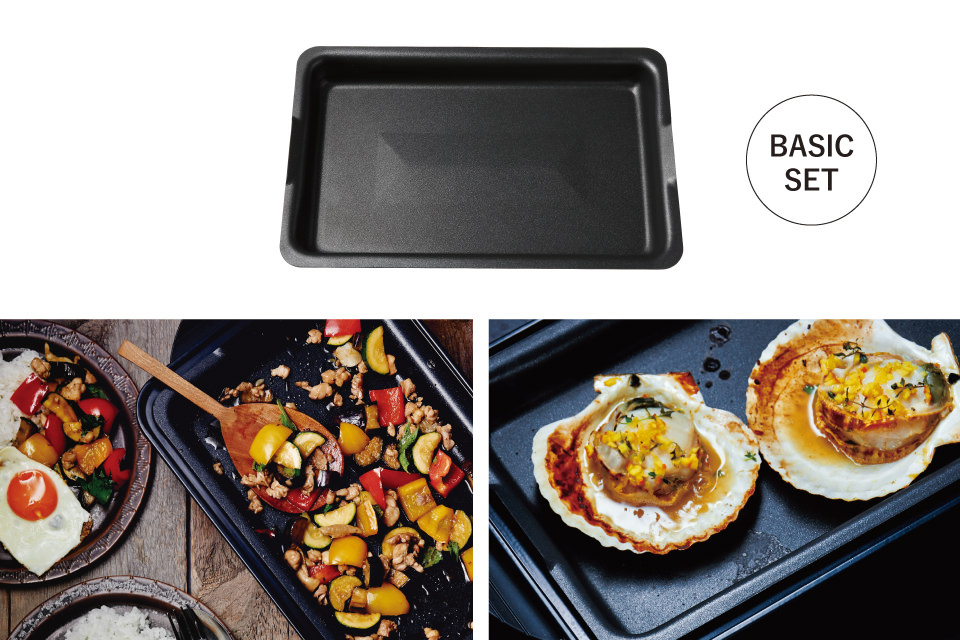 Bbq Plate (燒烤盤)
可加購烤盤:
Variety Plate (多用途六格烤盤)
Takoyaki Plate (章魚燒烤盤)
Ceramic Steam Plate (陶瓷深鍋蒸盤)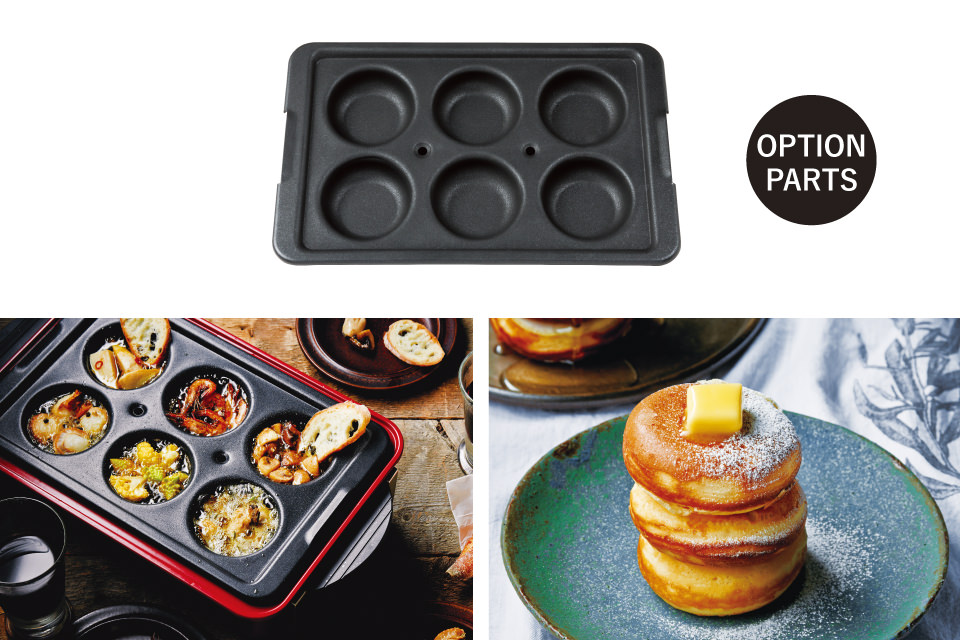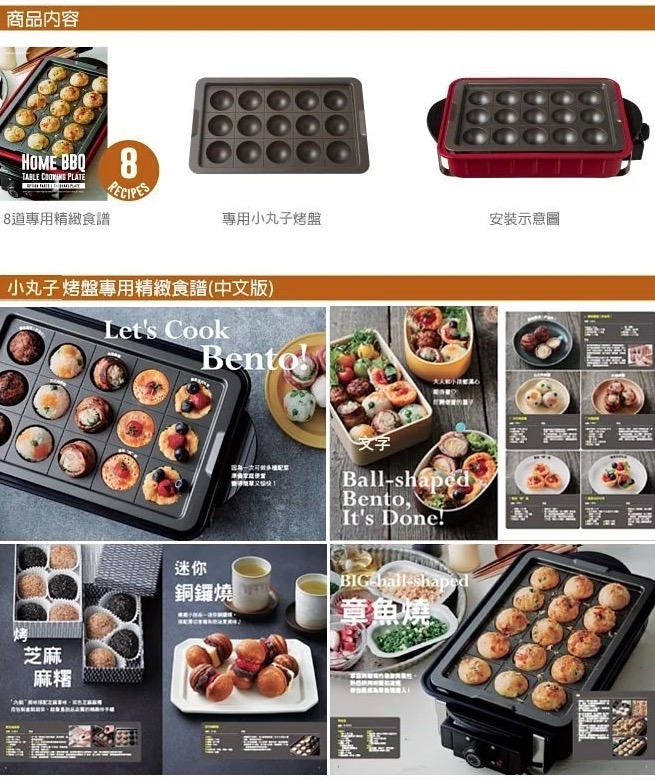 POWERFUL
Boasting great firepower! It even cooks thick, delicious steaks.
Equipped with a powerful heater that maintains high temperatures. Cooks juicy, hefty steaks without letting go of the meat's juices.
Cooks thick steaks with a crispy, golden-brown surface and a soft, juicy interior.
The powerful heater can handle temperatures from about 110C to 250C.
Adding water to the water tray keeps the high heat from the heater from transferring to the table
HEALTHY
Excess grease falls through holes in the plate, for tasty and healthy food
The included BBQ plate is designed with six holes to allow excess grease to fall through. You can grill fatty meat like pork belly, and make it tasty and healthy.
The grooved plate gives your food nice grill lines. Excess grease falls into the grooves, and falls through six holes away from the heater, into the water tray below.
After the grease has fallen through the holes into the water tray. The soiled water tray can also be completely washed in water.
KEEP CLEAN
Fully washable design, including the main body
Because you can remove the heater and wash everything from the plate to the main body, you can keep the product squeaky clean even after greasy meals, and not have to worry about stains. Maintenance is easy, you can wash the whole main body in a rack in the sink.
VARIOUS PLATES
Five plates for you to enjoy all kinds of cooking
Five plates offering even more ways to enjoy tabletop cooking. The basic set includes the BBQ plate and the flat plate. Other options sold separately are the ceramic steam pot, the variety plates, and the takoyaki plate, offering all kinds of variety.
The BBQ plate (included) is grooved, and is used for grilling. Excess grease falls through six holes in the plate, making delicious and healthy food. Perfect for steak of course, but also roasted fish, and vegetable brochettes.
The flat plate (included) lets you enjoy a wide variety of cuisine, from grilling, to stir-fry, to okonomiyaki and pancakes. This all-purpose plate will make you want to leave it on the table all day, for breakfast, lunch, and dinner.
The ceramic steam pot (sold separately) has been treated with a ceramic coating process that helps keep food from burning and sticking to it. You can use it for all kinds of food, like hotpot cuisine and rice cooked with seasonings and other ingredients. If you use the steaming plate, you can also enjoy all kinds of steamed food.
The variety plate (sold separately) has 6 round holes that are each 7cm in diameter and 2cm deep. Let your imagination run free, and the options are nearly endless, from ajillo or cheese fondues of various flavors, or mini pancakes or rice burgers all the same size
The takoyaki plate (sold separately) can cook 15 takoyaki in large balls with a diameter of 4.5cm. The plate's edges are high, so you can put in plenty of batter without worrying about it overflowing. Anyone can easily make perfectly round takoyaki. The holes have a broad diameter, so you can even use this plate to make round grilled rice balls, round omelets, and mini hamburgers. Convenient for side dishes for box lunches and parties!
ORIGINAL RECIPES
Worth a look! Comes with a large-sized recipe book
An A4-size exclusive recipe book is included with this product, featuring 20 recipes for stylish BBQ ideas, various grilled foods, stir-fries, and crepes, that can all be made with the BBQ plate and the flat plate. Each of the separately sold optional plates also come with their own exclusive recipe books.
Electricity Consumption 1200W
Voltage Rating 220V-240V 50/60Hz
Size

Main body (when stored): approx. W42.0 x D23.0 x H16.5cm
BBQ plate (inner dimensions): approx. W29.0 x D17.5 x H2.5cm
Flat plate (inner dimensions): approx. W29.0 x D17.5 x H2.5cm
Weight

Approx. 2.95kg
Materials

Main body: Steel, stainless steel, phenolic resin, PBT resin
BBQ plate and flat plate: aluminum (non-stick coating)
Please read before purchasing
●Whichever plate is in use, always insert the water tray and use after adding water. When used without water, the product may generate more smoke during cooking, or damage the table by raising its temperature. Abnormal heat may cause deformation, damage, or fire.
●Do not apply heat sources to any of the plates other than the Home BBQ, such as open fire or induction stovetop. This may damage the coating, and ruin the shape of the bowl or plate, rendering them unusable.
●Be careful of oil splashes. Depending on the items being cooked, oil may splash, causing burns or flying onto the table.
●Temperature estimates
Dial 1: approx. 110C
Dial 2: approx. 190C
Dial 3: approx. 250C
*These are only estimates. See the included instruction manual for details.
*The above temperatures are estimates of the surface temperature of the plate without a lid on or food inside. The temperature will differ depending on the plate type.
---